American Nurses Training Association
The Beata Clasp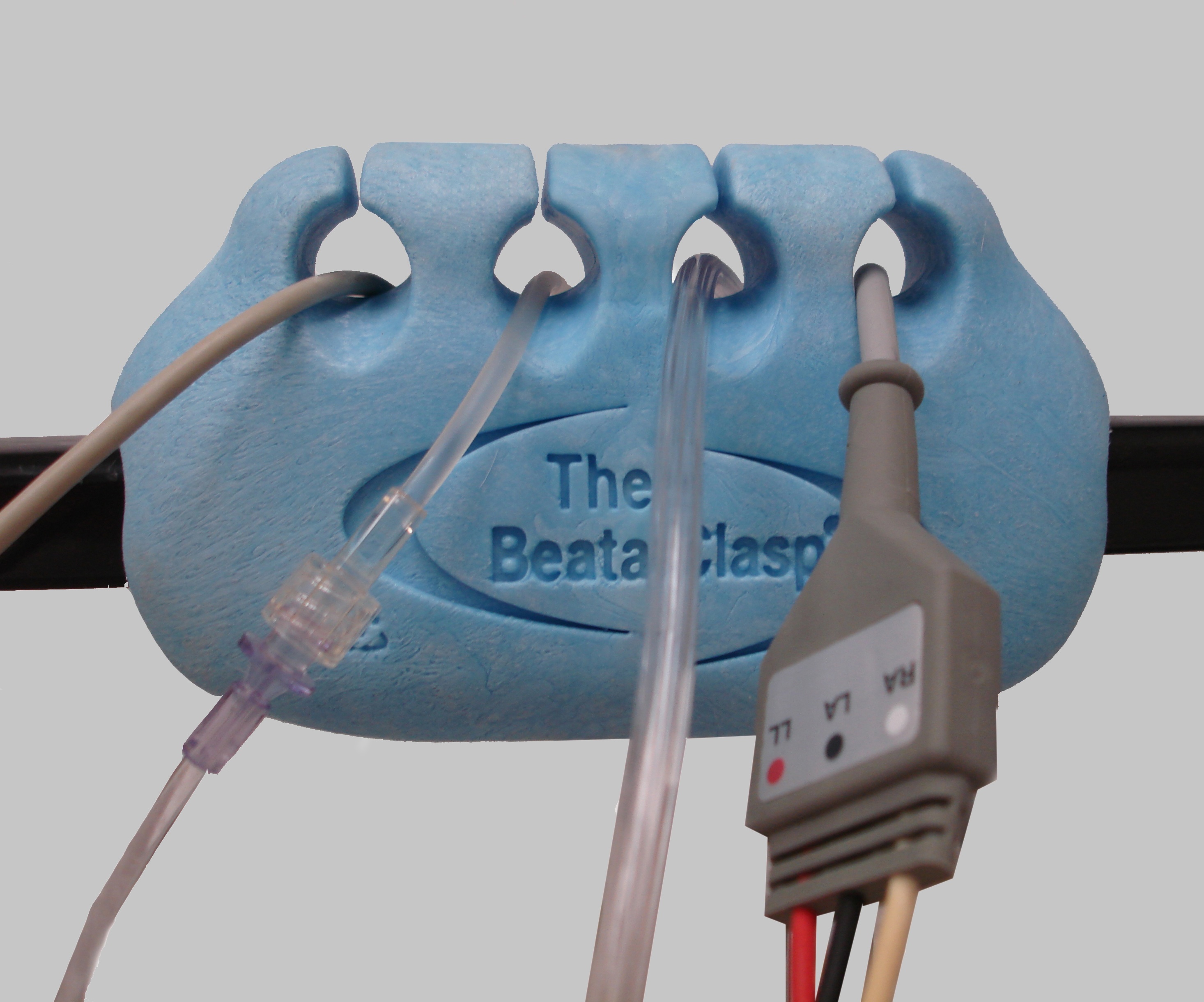 ---
The Beata Clasp® is a soft foam clasp that attaches to the hospital bedrail. Medical tubing, lines and drains fit securely into the product's bank of circular grooves. The clasp prevents line impingement, dislodging and entanglement by holding tubes in place within the grooves. The simple technology reduces the risk of adverse line, tube and drain incidents by keeping lines separated and cleanly draped. Because tubing is prevented from falling to the floor, contamination risks to patient and safety hazard risks to caregivers and visitors are reduced.
---
Please select from our list of sub-topics:

Indications for Use

Benefits from Use

The Beata Clasp Official Site
---
Indications for Use
The Beata Clasp® is indicated with patients who are at risk for line impingement, dislodging, entanglement or other line, tube and drain incidents. This population generally involves all hospitalized patients whose treatment involves multiple lines, tubes and drains, but medically complex adults, pediatrics patients and patients undergoing transport may be most at risk.
Preventing Medical Errors
Medical lines, tubing and drains are abundant in clinical practice. It is not uncommon to see IV lines & other cables tangled when patients are mobile or in transport. Tubing is a potential source of harm when it becomes dislodged, impinged, entangled or wrapped around the patient's neck or limbs. Furthermore; the time required for nursing staff to untangle, reorganize or reinsert lines represents a significant operational inefficiency.
Many new hospital beds use four independent bedrails which work to reduce the confinement of patients. However, when the head of the bed is elevated, a patient's IV or oxygen tubing frequently slides down the bedrail. The medical tubings then become stuck underneath the bedrail in its hinges. This impingement causes restriction and entanglement when a patient turns to his side or attempts to exit the bed. This unnecessary tension causes pain and discomfort for the patient. Patients can have several tubes in use simultaneously, leading them to become entangled upon themselves and each other. Additionally, this problem of entangled and caught tubes takes extra time to resolve each time a patient is visited by the nurse.
Another common problem occurs when a patient's tubing falls to the floor and becomes contaminated or entangled in the wheels of auxiliary equipment. Often times, the caregiver may accidentally step on an IV while giving assistance to the patient.
-DO NOT PERMANENTLY AFFIX MEDICAL TUBING TO Beata Clasp®-
-FOR PASSIVE RESTRICTION ONLY-
---
Benefits from Use
·Reduces medical errors and tubing misconnection
·Keeps cords off floor, decrease contamination
·Involve patients in discussion of tubing safety
·Eliminates tangling of multiple lines
·Prevents tripping of patient & staff
·Eliminates waste and rework
·Versatility and ease of use
Improved Patient Safety and Satisfaction
This moveable, soft, and safe device allows for variable placement on either side of the patient's bed. The apparatus addresses patient safety and satisfaction by keeping epidural analgesia tubing, intravenous tubing, oxygen tubing, nasogastric tubing, and other tubing lines separated. The device eliminates pain caused by accidental tension on tubings. Moreover, this device allows a patient to participate in self-care and gain knowledge of safety options.
Improved Caregiver Safety
Use of this apparatus keeps tubing free from being stepped on by the caregiver or patient himself, being caught in the equipment wheels, and from becoming contaminated on the floor. Greater caregiver safety results when patients are provided with access to safety features.
Improved Caregiver Satisfaction
By preventing a patient's tubing from becoming trapped or entangled, it improves a patient's hospital stay by reducing problems. Improved caregiver satisfaction occurs when solutions are provided for patient care issues.
Improved Caregiver Efficiency
This apparatus keeps a patient's medical tubing aligned, untangled, and free from impingement in the bedrail's hinges. It prevents tubing from sliding down the railing when the head of the hospital bed is elevated. Greater caregiver efficiency results when equipment and tubing are in their proper places.
---